About All Things Wild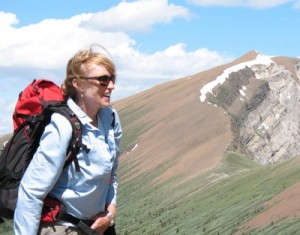 We unabashedly say our job is not work at all. Our hiking guides love showing off our incredible nature, oh, and the park too. To those that say what on earth are you doing living in Jasper? We say, "GO TAKE A HIKE". You'll really get it then.
A certified Master
Owner, Kirsten Schmitten, started working in the Canadian Rockies at the age of 17 and grew into an interpretive guide, writer, and talented presenter.
After completing her BSc in Environmental Science and Physical Geography, she headed back to exploring the Canadian Rockies. She is known for both her sense of humour and her comprehensive knowledge of mountain ecosystems and the rich history of the Jasper National Park.
More recently, Kirsten  was awarded Jasper's only Master Level Interpretive Guide Accreditation, an honour of which she is very proud. Along the way she has handpicked only the best guides.
Our hiking guides have local knowledge
All Things Wild guides are certified by the Interpretive Guides Association and licensed by Parks Canada. They are locals, who have miles of adventures and first hand knowledge of the park.
Get the most from your visit to Jasper National Park
For over 20 years, All Things Wild has been helping visitors get them most from their trip to Jasper National Park and the Canadian Rockies. From guided hikes, nature walks, presentations, and writing, we make the stories of Canada's most spectacular park come alive.
Our guides are always experienced, safe, thoughtful and fun.